Plain-English Study Guide for the FCC Amateur Radio Technician Class License
W0IS.com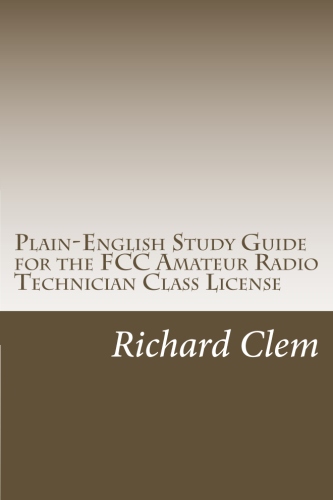 I have written a study guide for persons who want to pass the test for the entry-level FCC Amateur (Ham) Radio license, the Technician license. This technician class license study guide is intended for persons with no background in radio or electronics, and will explain all of the material on the test in plain English. Each section of the guide is followed by the actual questions that will appear on the test, with the correct answers.
By reading this guide, you will be able to pass the test, and you will also have a basic understanding of the material, which will allow you to get on the air with confidence when your license arrives.
You can download a free sample (the first 15 pages of the 105 page eBook) in PDF format by clicking here.
The book has been updated to include all questions from the 2014 question pool, which will be in use until 2018.
The book is available in paperback for only $12.95. To order directly from the publisher, simply follow this link. You can also order from Amazon
.
This book is also available on Amazon as a Kindle book, for only $3.99. You can order by clicking the link below:
If you don't have a Kindle, you can download a free Kindle viewer for your PC or other platform by following this link
.
It is also available at smashwords.com in a variety of formats (including PDF) for $3.99 at this link.
I also have the following study guides available:
©2011 W0IS.com
Copyright and privacy policy